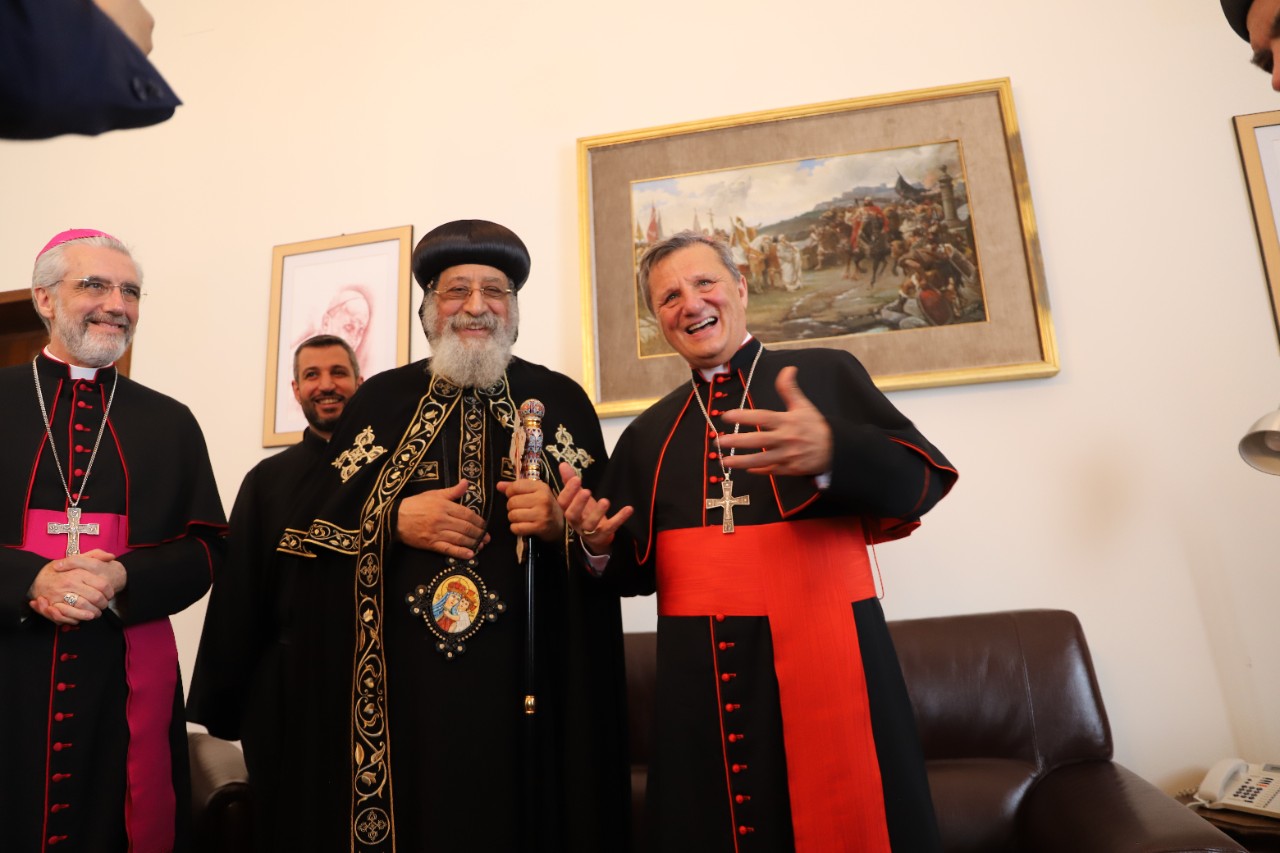 "Your Holiness, we humbly ask you to bless our synodal journey and to accompany us with your prayers, yours personally and those of your Church, that we may know how to put ourselves in the Spirit's hands !", it was with this particular request that Cardinal Mario Grech concluded his address of greeting this morning to His Holiness TAWADROS II, Pope of Alexandria and Patriarch of the See of St. Mark, accompanied by an eminent delegation of the Coptic Orthodox Church.
Accompanied by the two undersecretaries of the General Secretariat of the Synod, Mgr. Luis Marín de San Martín and Sr. Nathalie Becquart,  Cardinal Grech presented the synod process and recalled how the Eastern tradition can "the Catholic Church to better articulate among them the common participation of the faithful in the life of the Church, which has its source and culmination in the Divine Liturgy, the collegial dimension of the episcopate, which finds its highest expression in the Synod, and the service to unity carried out by the protos".
"We trust," Cardinal Grech expressed, "that the Churches of the East will be able to stimulate us to promote a healthy decentralisation of authority, making better use of the regional and provincial levels of synodality, which have their roots in the beginnings of the undivided Church".
Finally, the General Secretary of the Synod expressed his hope that the synodal path initiated by Pope Francis in 2021 " will be a further important step towards the Orthodox East".
For his part, Pope Tawadros II presented some aspects of the life of the Coptic Orthodox Church, while His Eminence Daniel, Metropolitan of Maadi and El Basateen, presented the workings of the Holy Synod of which he is Secretary General.
The meeting, which lasted just over an hour, took place in an atmosphere of great cordiality and fraternity.
Cardinal Grech's full address is available in English and Italian.
The video of the blessing is available here.
Photos are available here.